Quality Policy
We at Mani Automation., are dedicated to achieve customer satisfaction by supplying quality and value added products at right time and right place and by enhancing continual improvements in our quality management system
The quality In mani Automation produces superior components. mani Automation has an elaborate system for managing, manufacturing engineering products & new developments. This not only ensures a high level of quality in all the products developed in the company but it also meets the special requirements for specific products and customers. this system is built on the premise that all processes can be controlled by ensuring that they are run by the right people, using clearly documented procedures that meet international norms, supported by the best tools for the job and backed up by frequent cross-functional audits and a company-wide culture of continuous improvement.
Quality Certifications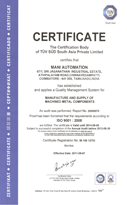 We inherent quality throughout the manufacturing process on some ofthe most modern machinery & equipment has gained Mani Automation the coveted international mark of quality management systems - ISO 9001 – 2008.
Our Quality Circle to attain self motivation & happiness by improving the products through quality excellence in each of the functional areas. Apart from the progressive changes in the organization, this Quality Circle is also proving fruitful by accelerating the development of individuals. This development can be seen in terms of change in attitude, self development and development of team spirit resulting in improvising the overall organizational culture. The steering committee of the quality circle formally meets once in a month and the inner circles of the same, meet twice a month with a crystal clear agenda. Involvement up to the grass root levels of the organization brings out a realistic feedback. This in turn is used to bring in improvement in all directions.
Objectives:
Meeting the customer requirements
Fulfilling statutory and regulatory requirements
updating processes by updating to the best technology .
Increase Employee's Output By Providing Training
update the quality certificate given by certify body